Non-Emergency Ambulance Transport
Non-Emergency Ambulance Service
It's getting easier to find wheelchair-accessible transportation, but what about when you have more extensive needs? A patient transport ambulance is a safe and comfortable way to help people with medical needs get to important appointments and move from one location to another with the support of medical personnel. 
Sometimes you need safe, medical transport even when it isn't an emergency. CienOne is a longstanding brand recognized for safe, reliable patient transport. We are clinically distinguished for providing aged patients with tenderhearted care and medical attention during their scheduled, non-emergency trips. 
Our professional medical team utilizes a personal approach to cater to each patient's needs, ensuring they get the highest quality service. We have high service standards and transport our riders with professionalism and integrity.
Our trusted medical staff is prepared to get you or your loved ones where they need to be.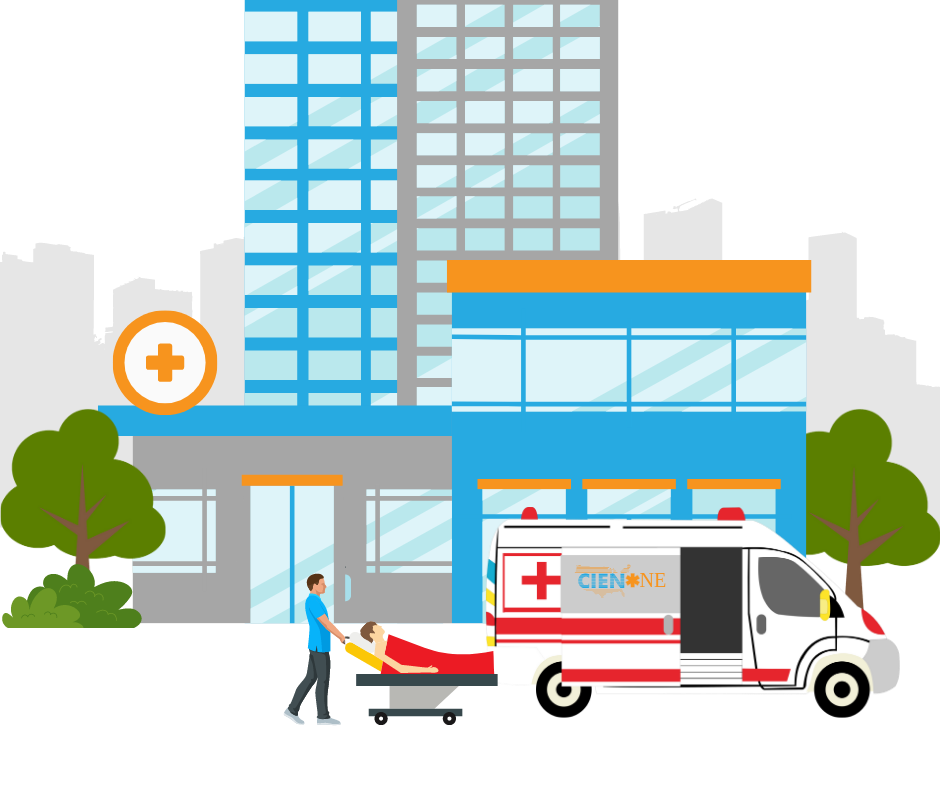 Tips for Scheduling Non-Emergency Ambulance Services
Scheduling medical transport for yourself or a loved one can seem overwhelming. Our transport coordinators are here to make the experience as smooth as possible. If you need a non-urgent ambulance, simply call or chat with us online. 
For the best service, we recommend you call at least 24 hours prior to your desired pick-up date and time. However, we can typically accommodate short-notice requests, as well. Booking early will guarantee your transport date and time.
Be Prepared with the Following Required Information:
The patient's name, date of birth, gender, and age

The home address of the patient

The pick-up location of the patient

Requested time and date required for pick-up

The drop-off location or receiving facility of the patient

The name of the medical provider or physician authorizing the non-emergency ambulance transport

Medical condition: feeding tubes, special diets, etc.

Does the patient require special equipment, i.e., oxygen*?

Physical condition: weight, height, and ability to move or sit

Will an accompanying passenger be joining the patient?
Our transport coordinating team is available 24 hours a day, 7 days a week. We are ready to address any questions or concerns about your medical transport needs. 
What's Included?
While every trip is tailored to the needs of the patient, we meet a standard of excellence with every ride. Every appointment includes access to our transportation coordinators 24/7 to address all of your questions and concerns. Our non-emergency ambulances are equipped with medical supplies and support equipment and are updated for the specific needs of each patient (for example, if oxygen is needed, etc.). Our trained EMTs ride with patients and monitor their health and comfort throughout the journey. Caregivers are also welcome to ride with loved ones to the destination to provide companionship and assistance.
Bariatric Transport
CienOne goes to great lengths to provide outstanding long-distance bariatric transportation. Each vehicle in our transport fleet is custom-made and designed to accommodate all patients, bariatric or not. Our rear-facing doors have a 270-degree range of motion to provide a stress-free and safe loading and unloading.
At CienOne, our transport fleet is equipped to handle weight challenges seamlessly. Our Stryker power load stretcher is capable of lifting up to 700 lbs with the touch of a button. Furthermore, our vans are large enough to have a passenger or family member along for the entirety of the transport.
An Emphasis on Comfort and Safety
During this time of medical need, a patient deserves the best in medical transport services. That's why it is important to find a service provider with experience and expertise. CienOne is that service provider. We are confident we will earn your trust as we provide you, your loved one, or patient with the best care during their time with us. 
At times of medical need, we want to alleviate your concerns and bring you peace of mind. CienOne's transport coordinators and medical staff will assist you with every step in the medical transportation process. If you need the best in long-distance medical ground transport nationwide, CienOne is here for your medical transport services.
CienOne Is Ready For You!
CienOne provides well-equipped ambulances and EMTs that ride with you to handle a wide variety of different medical situations. When you call to request one of our non-emergency ambulance transport units, our coordinator will make note of your unique needs so you can rest assured that all the equipment and knowledge about your situation is readily on hand for a safe journey.