Long Distance Senior Transport
State To State Senior Transport
CienOne's most utilized service is long-distance senior transport. We specialize in safe, luxurious transport for senior citizens from state to state or 200+ miles. The unmatched, tender care by our medical staff is second to none, when it comes to transporting you or your loved ones.
Our Mercedes Sprinter fleets are custom-made to provide sufficient accommodation for your family member, a pet, and our staff. We also provide additional amenities such as a standard restroom, air conditioning, music systems, TV, etc., to ensure our patients feel relaxed and comfortable throughout their trip.
Our trusted medical staff is prepared to get you or your loved ones where they need to be.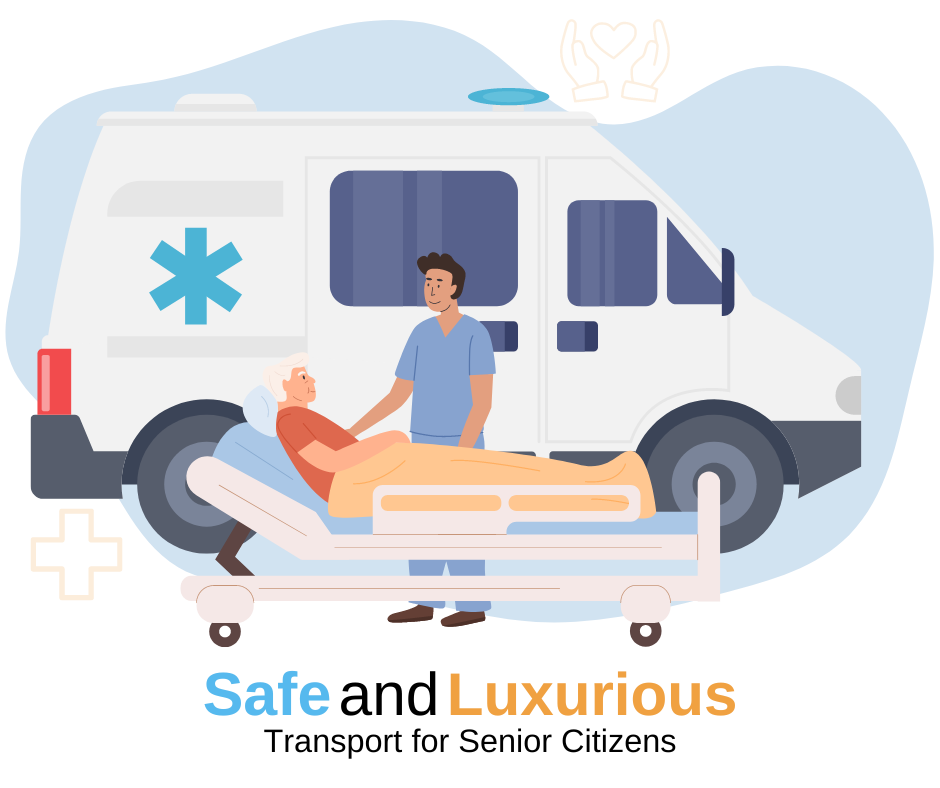 What are Long-distance Senior Transport Services?
As our loved ones age, their mobility becomes limited, and they find it challenging to travel long distances for medical treatment and attend weddings as well as other various events. This is where reliable long-distance senior transportation services come into the picture and have helped many in this situation.
CienOne long-distance senior transport services are designed to ease seniors' lives by safely and comfortably helping them cover long distances. However, to ensure that you receive top-notch care and support during long-distance travel, it is crucial to know how to book the right service provider that checks all of the right boxes.
Factors to Identify Reliable Long-Distance Senior Transportation Services
If you want to book the best long-distance senior ambulance services, you must vet the service providers against the following factors:
Safety and Comfort
When booking a long-distance elderly ambulance, safety and comfort are non-negotiable. Book a reputed medical transport service provider known for covering long distances. They must possess a customized fleet of vehicles that are safe, comfortable, and equipped with the necessary amenities. 
Personalized Travel Service
Only some seniors have the exact travel requirements, especially when covering long distances. Therefore, always look for professional long-distance elderly ambulance service providers that offer customized travel care plans. Here at Cienone, we will ensure seniors receive the care, comfort, and support they deserve.
Trained and Professional Staff
Another crucial factor in vetting long-distance senior transport service providers is by ensuring the service provider hires only the best-trained and certified staff. Besides professionalism, the staff should also possess empathy and be well-equipped to handle sensitive matters. They should be ready to provide any sort of medical assistance.
Accessibility and Flexibility
Seniors may have unique accessibility requirements like needing a wheelchair-friendly vehicle, extra space for their essentials to fit in, easy availability of specialized medical equipment, etc. Moreover, always choose a long-distance or coast-to-coast elderly ambulance that provides greater accessibility and flexibility for most seniors.
When it comes to seniors, we all want to give them extra care, support, and convenience by going the extra mile. If you want to find the best long-distance senior transportation services provider that offers all of these features to the elderly, make sure you check whether or not they provide adequate features or not. 
Here at Cienone, being one of the reliable providers for coast-to-coast elderly ambulances, we offer greater accessibility, customized plans, and professional and trained staff to provide senior patients with the ultimate comfort they have been looking for. With us, we make long-distance travel a breeze for senior citizens. 
CienOne is a top-tier, nationwide medical transport service provider. We offer an extensive lineup of interstate patient transportation services for various non-emergency situations. Our long-distance medical transport fleets are specially configured to provide the best comfort to bed-restricted patients who cannot walk or sit up for long periods.
Our nurses and patient care managers are licensed and trained to provide patients with the best care and comfort while on their trip. We also provide our patients with the accompaniment of trained medical personnel to attend to their medical needs in transit, ensuring that they arrive stable. Presently, our most common service is elderly transport.
The leader in long-distance bariatric transportation, CienOne provides outstanding patient care for our bariatric patients. Our rear doors open up 270 degrees to allow for a smooth and comfortable loading and unloading. We encourage family to accompany our bariatric patients as passengers, with plenty of room inside,
Trusted Senior Transportation Services
CienOne is among the most trusted choices for senior transportation, chat with a transport coordinator today. You can reach our transport coordinators via phone, email, or live chat any day of the week! Contact us today!
CienOne© | Long Distance Medical Transport