Transporting patients long-distance isn't an easy task, especially for patients with chronic health issues, spinal cord injuries, and other mobility issues that need serious care and support during travel. Finding perfect and professional patient transport services takes a lot of research and struggle but it doesn't have to be that way.
Unprofessional attempts during the long-distance travel of patients may lead to adverse events and mishaps. Patients may experience worsening conditions due to unprofessional staff. Therefore, finding reliable non-emergency medical transportation with trained staff and specially equipped vehicle is certainly a challenge.
However, there are a few tips that could help you hire the best NEMT service providers to facilitate the long-distance travel of your loved ones. Let's keep reading to find out about these proven hacks.
7 Tips for Booking Long-Distance Medical Transportation
There are a few important factors that should be taken into consideration while booking long-distance NEMT services. This will allow patients to safely move to a required medical facility to receive further treatment. However, not all these service provider companies are built with similar ideologies.
When it comes to transporting your loved ones to their doctor's appointments and medical facilities, you want a trustworthy NEMT service provider such as CienOne. We provide a wide range of specialized services for non-emergency situations.
Here are seven tips for booking long-distance medical transportation:
Tip#1: Check Their Accreditation
Accreditations as well as certifications work like a first line of defence against questionable and unprofessional medical transport companies. Generally, if you're partnering with highly professional and reputed patient transport services, they will have multiple certifications such as FAA, CAMTS, IAMTCS, etc.
All these accreditation and certification prove the authenticity of these companies. Since it's utilized to obtain credentials, companies have to prove their standards to the given organization. Thus, it ensures the reliability and safety of the patients who will be traveling long-distance with these transport companies.
Tip#2: Read Company Reviews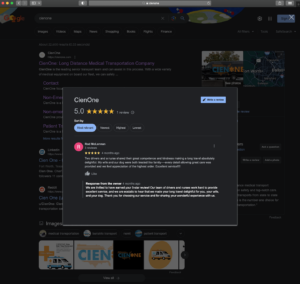 Reviews are the primary source of information from which you can understand whether the NEMT service companies are trustworthy or not. So, before hiring any NEMT company, you should read all the reviews to avoid ending up hiring a poor-quality NEMT service provider. This can also help you from paying too much for NEMT service.
In addition to reviews, you can also speak with someone who has already hired similar services to get more detailed insights. This will provide peace of mind in such critical situations and help you feel better about hiring the company you are considering.
Tip #3: Know the Vehicle
In the case of long-distance medical transport, the quality of the vehicle plays an important role here. It's because patients will remain in the vehicle for a long or extended period of time which means it has to be comfortable and safe. This is the reason why reputed companies offer highly equipped vehicles to offer ultimate comfort.
If you've ever booked long-distance NEMT services from reliable companies, you'll notice they have adequate legroom in the vehicle along with a life support system to offer the care needed to patients. This way a patient also feels safe during the travel which is crucial, especially when they may be living with a variety of health conditions.
Tip #4: Patient Care & Comfort
During long-distance travel, the journey can become fatiguing for patients with mobility issues, spinal cord injuries, and other health issues. This is why it's imperative for the patient transport services to take special care of the patient's comfort, especially if patients are traveling to another state or country, care and comfort is crucial.
Further, apart from offering medically trained staff and specially equipped vehicles, what other services are provided by these NEMT service providers? Regardless of anything, you should choose an operator with backup oxygen, feeding tubes, suction machines, bathroom facilities, therapeutic mattresses, and other essentials.
Tip #5: Bedside-to-Bedside Transportation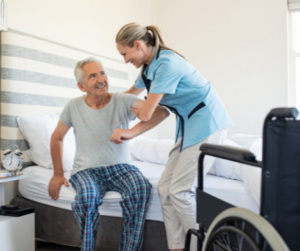 Well, in some cases, having a NEMT operator who provides bedside-to-bedside transportation becomes a necessity. This becomes even more important when dealing with bariatric patients who have limited mobility, bedside transportation becomes a lot more beneficial than others.
Generally, professionals NEMT long-distance service providers take note of every detail of a patient's care. Therefore, they offer bedside-to-bedside transportation along with all of the life support systems required as well as a fully-stocked service vehicle with medical supplies and first-aid equipment.
Tip #6: Take Note of the Hidden Costs
While booking patient transport services, it's important that you don't burn a hole in your pocket. However, if you're dealing with an unprofessional, there will be a lot of hidden charges that may result in unnecessary price fluctuations. This is the reason why it's important to ask price-related queries to the company before hiring them.
You can secure quotes from different service providers in this industry to compare the rate charts. Although trusted companies may ask for fair prices, yet they will provide top-notch services to their clients. Ultimately, it's up to you to check for any hidden costs and surcharges.
Tip #7: Double Check the Appointment Date & Time
When scheduling NEMT transportation, it's important to make sure that you choose the right date and time for the appointment. Otherwise, no compensation will be provided in case of any mistakes from your end. Therefore, professionals always recommend to be extra vigilance while booking these services.
These are a few of the tips that should be taken into consideration when looking for professional, trusted, and reputed NEMT service companies. Moreover, you can conduct some research before selecting the professionals to ensure more safety and security of your patients.
Where to Get the Best Patient Transport Services?
For traveling long-distance with seriously ill patients, their safety and well-being should become the primary concern for non-emergency medical transportation service providers. CienOne is one such reliable provider of patient transport services operating across the United States.
Along with specially equipped vehicles for our NEMT long-distance transportation, we also offer medically trained staff who can take care of patient's well-being during the entire travel. To know more about our long-distance patient transport services and rates, contact us today and see how fast you can book your appointment with CienOne.