Bariatric Transport
CienOne goes to great lengths to provide outstanding long distance bariatric transportation. Each vehicle in our transport fleet is custom made and designed to be accommodating to all patients, bariatric or not. Our rear facing doors have a 270 degree range of motion to provide a stress free and safe loading and unloading.
Obesity affects over one-third of Americans, and comes with its own medical challenges. At CienOne, our transport fleet is equipped to handle these challenges in a seamless manner. Our Stryker power load stretcher is capable of lifting up to 700lbs with the touch of a button. Furthermore, our vans are large enough to have a passenger or family member along for the entirety of the transport.
Our trusted medical staff is prepared to get you or your loved ones where they need to be.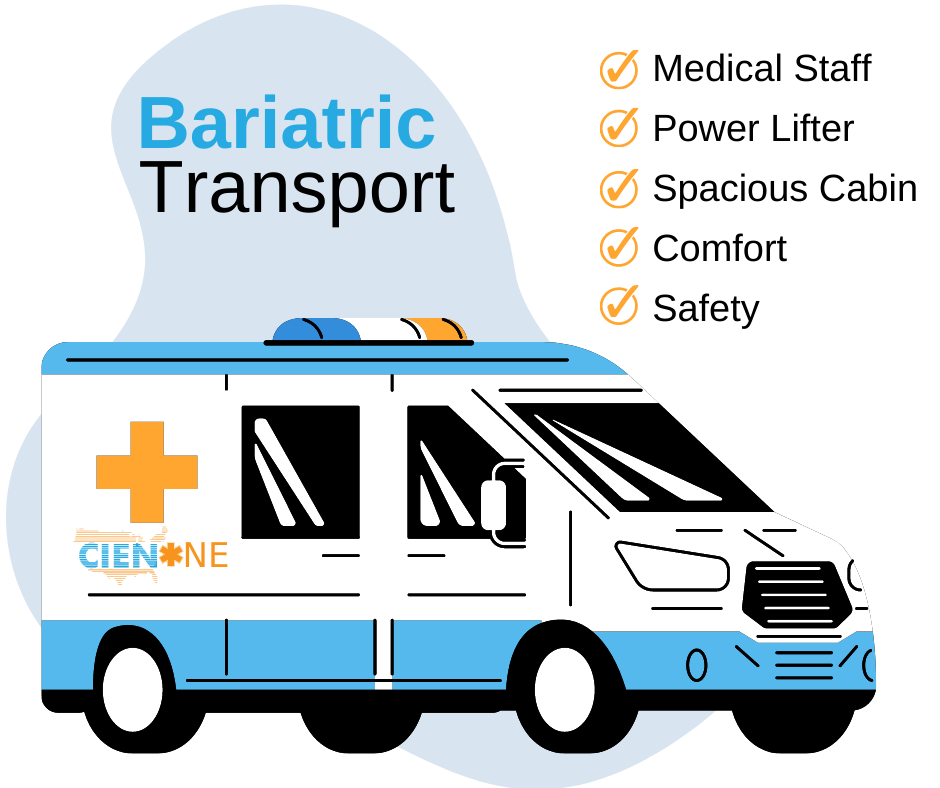 CienOne is a top-tier, nationwide medical transport service provider. We offer an extensive lineup of interstate patient transportation services for various non-emergency situations. Our long-distance medical transport fleets are specially configured to provide the best comfort to bed-restricted patients who cannot walk or sit up for long periods.
Our nurses and patient care managers are licensed and trained to provide patients with the best care and comfort while on their trip. We also provide our patients with the accompaniment of trained medical personnel to attend to their medical needs in transit, ensuring that they arrive stable. Presently, our most common service is elderly transport.
The leader in long-distance bariatric transportation, CienOne provides outstanding patient care for our bariatric patients. Our rear doors open up 270 degrees to allow for a smooth and comfortable loading and unloading. We encourage family to accompany our bariatric patients as passengers, with plenty of room inside,
Trusted Bariatric Transport
CienOne is among the most trusted choices for bariatric transportation, chat with a transport coordinator today.
CienOne© | Long Distance Medical Transport